I've written before about my interest in Unitarian Universalism. I was having some interpersonal issues at church that almost made me walk away from the congregation to avoid drama, but, decided to do a thing I sometimes do, where I put a question to the universe and try to listen for an answer. In this case, I decided to apply for financial assistance to attend the Unitarian Universalist General Assembly in Columbus, Ohio: I figured that if I got the scholarship, that I'd reach out to a professional acquaintance there if I got the money and see whether I could stay with her.
I had nearly forgotten about my application a few weeks after I submitted it, when I was telling a friend about my issues at church, and he told me out of the blue that he'd known my friend Katie (he'd read the post linked above). I had an odd feeling that I've only had a few times – the phrase that comes to mind is "somebody walked over my grave" – and sure enough, the next morning, I woke up to an email from the Unitarian Universalist Association informing me that I'd received a scholarship making it possible for me to go to General Assembly. If this wasn't enough of a sign to stay put at All Souls, the day following, I heard from my colleague, L, in Columbus: she was coming to DC and wanted to meet, so, I didn't even have to contact her first to ask her about staying at her place!
I was so happy to be able to meet L for the first time in person. Working with her as a client was such a thrill – I could always sense that a person of immense curiosity and intellect, who shared my passion for libraries, was on the other end of the line when we used to have our weekly client phone call, but she is even kinder and more generous and funny than I could have imagined. Here are my favorite pictures from the first time we met IRL, when we did the cocktail flight at BarMini.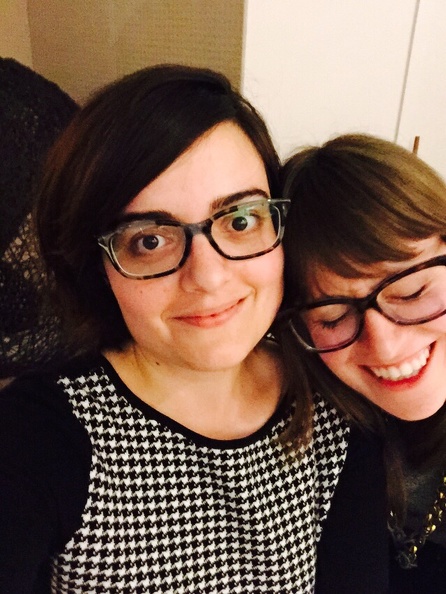 I'm glad that I have put in the time at the church. I don't know if Unitarian Universalism figures into my spiritual path long-term, but in the meantime, it has brought me some wonderful things. I've attended IAF community organizing training for a second time, met some very nice people, and have been able to observe different leadership styles and group dynamics than I am used to. Navigating small conflicts within the young adult group has made me a better listener, less inclined to gossip, and more inclined to give people the benefit of the doubt.
I had a nice time at the Service of the Living Tradition, and loved seeing my friends from All Souls on stage singing under the direction of our church's musical director.
I'm very grateful for the opportunity to spend some time in L's apartment, too. Being around a new friend who has been so kind has made it clear who in my life isn't reciprocating the good vibes I try to put forth in all my interpersonal relations.
I am so lucky to have a friend like L. Girl makes me want to raise the bar on hospitality to guests.
I was disappointed to miss two attractions in Columbus that weren't on my radar until it was too late to visit: first, the significant collection of Dale Chihuly glass at the Franklin Park Conservatory (I really love the Chihuly chandelier in the Renwick), and second, the Lustron House that is permanently in the Ohio Historical Society after a three-year visit to MOMA. Getting to Columbus is pretty cheap, so I'm hoping to make one more trip back there before L moves.
I loved going to see the Columbus Clippers with L's brother and his wife, and their friends Toast and Stove.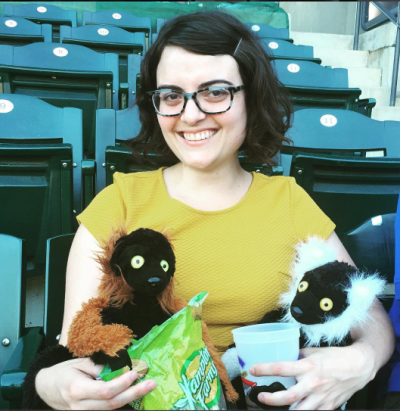 I only go to minor league baseball when it's PGCMLS/Summer Reading night at the Bowie Baysox, so it was really a treat to go to a game smack in the middle of downtown! Here are some pictures of the stadium, and Toast and Stove's family and friends.
The main library branch in downtown Columbus reopened just in time for my trip, too. That deserves its own blog post over at the library-specific blog I'm trying to force myself to update. First, though, I want to rave about Columbus's coffee scene. The city (which has an adorable downtown visitor's center) distributes little passports for participating coffee shops and craft breweries, and gives you freebies if you bring your completed book back downtown. (Unfortunately, they don't let you keep the book as a souvenir, but the t-shirt they give out is pretty nice!)
How cute is this, though?
The coffee shop that stood out most for me was the Roosevelt, which plugs back into some social causes and serves Destination Doughnuts, which were SO GOOD.
Something that really struck me was how much SPACE a lot of these businesses had. It was wild having the places go on and on once you got inside. Can't recall the names of everywhere I went, but man, all the places on that coffee passport were great!
I also enjoyed going to Columbus Fest in the awesome park near the convention center.
Jenni's ice cream was kind of overrated, but the central market in Columbus was nice. I rode the bike share a lot and loved it.
Thank you to everyone who made this such a great trip, especially to the new friends I met from All Souls and to the loveliest of hostesses, and the loveliest of lemurs.