We had the great privilege of visiting the Vatican Library.  We weren't allowed to take pictures, but here's one of the reading room the New York Times dug up from the Vatican's website: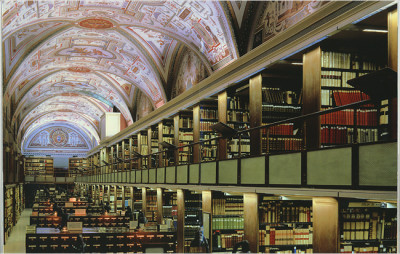 I wasn't really sure what to make of this library. I think this tweet pretty much says it all:
#tbt to the Vatican's digital resources pic.twitter.com/aYDXgRrSnF

— Anita Kinney (@Anitalifedotcom) June 4, 2015
It seems like some of the rare books are housed in safes that can only be opened by skeleton keys that are kept inside a leather pouch. It isn't clear whether these safes are archival quality, or are, in fact, old wardrobes belonging to past popes.
The library contains about 150 thousand manuscripts and about 1.5 million print volumes, and our guide told us that there has been a decrease in users because of increased digital resources – whether this means a decrease in reference because of Google, or a decrease in physical visits because of the library's digitization work wasn't specified.
The card catalog is not complete, and staff from the Library of Congress worked in the 1920s to update it. I wonder whether card catalogs are a relatively modern invention because it really doesn't make sense to me that there isn't a master list somewhere, geez.
I assume these are mostly theological volumes. I believe that the writings of popes, etc. are housed in the archives. It wasn't clear what the particular collecting strengths are. We got to see some old books on display, though, which in retrospect puts me in mind of the Laurentian Library.